White House Will Dare Pelosi to Hold Vote
President acknowledges House has enough votes to impeach him
Posted Oct 4, 2019 12:36 PM CDT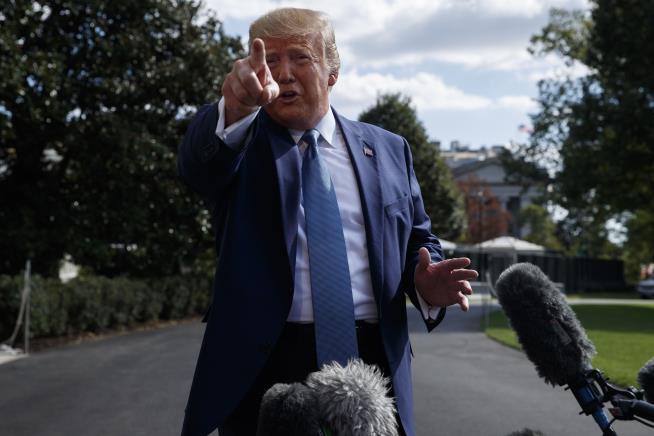 (NEWSER)
– President Trump defended himself
on Twitter
and in person to reporters on Friday, insisting that his appeals to China and Ukraine to investigate Joe Biden were all about corruption, not politics. "Everything, to me, is about corruption," Trump said, per
CNN
. "I don't care about Biden's campaign, but I do care about corruption." He also said he's not sure whether the White House will comply with House subpoenas in the impeachment inquiry, saying the decision would be up to lawyers. Related:
Daring Pelosi: The White House will be sending a letter to Nancy Pelosi essentially "daring" her to hold an impeachment vote, reports Fox News. The White House objects to Democrats beginning an impeachment inquiry without a formal floor vote, and the letter will state that the White House isn't compelled to comply with Democratic requests until such a vote takes place, per the AP. Pelosi maintains the vote isn't necessary for the inquiry to begin.
A 'red wall': Trump on Friday acknowledged that the House has enough votes to impeach him, though he'd only be removed from office if the Senate agrees by a two-thirds majority. Axios notes that Trump looks safe given that he has a "red wall" in the Senate—a reference to the 51 senators from states where Trump won in 2016. He needs only 34 of them to save him from impeachment. The analysis has all the particulars.